Who we are
Group of legal entities with shared interests Apeiron Group consists of entities (in alphabetical order):
Apeiron s.r.o. - is limited liability company (Ltd.) mainly focused on research and development services and advice in the field of mechanical engineering;
Apeiron EU s.r.o. - is limited liability company (Ltd.) is a company with a primary focus on education and training in business and computer skills, and on professional digitizing;
Harmony Apeiron o.z. - Civic Association - A non-profit organization is mainly concerned with issues of harmonizing human activities with the outside world through the dissemination of publications and organizing professional events;
RISE Asociace - Civic Association based in the Czech Republic - a non-profit organization seeking to create conditions for a harmonious mix of seemingly strong oppositions five areas of human society: social, political, religious, cultural and scientific. This activity is serving to society performs primarily publications and organizing of professional events.
<![if !word & !ppt & !excel & !vml]>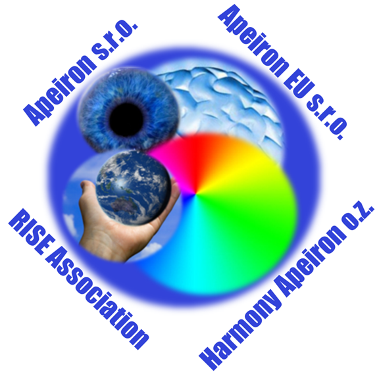 <![endif]>

Word "Apeiron" means boundlessness, illimitableness, infiniteness in Greek language. Anaximander of Miletus (610-546 BC), whose written philosophical work are probably first known in western culture, designated it as qualitatively homogeneous and quantitately boundless prosubstance (gr. Arché), in which all periodically origin and return back to it.
Anaximander can be considered to be a founder of European natural science - for example, he was first man in a history, who formulated (even if in simple form) the idea of live beings and human evolution, but he was also as much awesome mathematician – he wrote the handbook of geometry as land surveyor - he created map of world, at the same time he was excellent astronomer - he designed sky model, in which the Earth similarly to other celestial bodies were floating free in space and he also improved gnomon for sundial ...

It is not easy to introduce a more harmonious personality acting so deep in our history.

By a name Apeiron Group therefore we express our efforts to harmony in society. Our goal is to show the already known but unused path to achieve it as well as seeking new way out of the labyrinth created by our culture.

Our customers:

BSH s.r.o. Michalovce (Bosch - Siemens - Homeappliances) for foreign partner from Germany

Delta B, s.r.o. Bratislava for foreign partner from Germany

Delta Defence a.s. Prešov

Exempla s.r.o. Prešov

New Tech s.r.o., Nová Dubnica for foreign partner from Germany

GMF s.r.o. Martin for foreign partner from France

Mapa s.r.o. Kosice

New Tech Slovakia a.s. Bratislava

Regada s.r.o. Prešov

Institute of Material Research of Slovak Akademy of Sciences, Košice

Semos s.r.o. Prešov

Slovak Chamber of Commerce and Industry , PRCH Prešov

Spojmat s.r.o. Prešov

Top Trial s.r.o., Prešov

VOP s.p. Prešov for foreign partner from Germany

VUKOV Extra, a.s Prešov

<![if !vml]>